Languid sailing in Malta – a popular luxury holiday during Europe's summertime
One of Malta's highlights is its surrounding Mediterranean waters. The islands boast crystal clear blue beaches with picturesque backdrops, untouched secluded beaches, caves and other attractions that are popular with snorkelers and divers from around the globe. Malta offers a wealth of stunning destinations for yacht cruising, each with its own unique charm.
Get ready for your sailing adventure in Malta and discover some of the best spots and tips from the locals for the ultimate yacht chartering.
1. Blue Lagoon Comino Island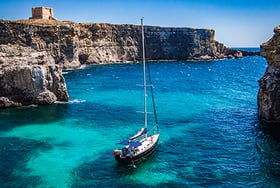 This idyllic lagoon with crystal-clear turquoise waters is a must-visit destination. It's perfect for swimming, snorkeling and relaxing. The surrounding caves and cliffs add to its beauty. Anchor at crystal lagoon for the night and experience the harmonizing sunrise from the core of the Mediterranean.
2. Valletta Grand Harbour
The Grand Harbour in Valletta is a natural harbour that has served as a strategic port for centuries. It offers a stunning setting with its impressive fortifications, historic buildings, and waterfront restaurants. Go back in time and take a stroll in the capital city.
3. St Julian's Bay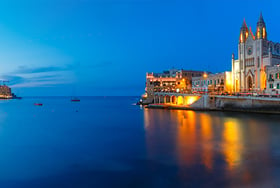 This vibrant area is known for its bustling nightlife, restaurants, and luxury yachts. It's a popular spot for yacht chartering due to its proximity to various entertainment establishments and the scenic Balluta Bay.
4. Mellie

ħ

a Bay
Mellieha Bay, also known as Ghadira Bay, is the largest sandy beach in Malta. With its shallow, clear waters, it's an ideal spot for families and water sports enthusiasts.
5. M

ġ

ieba

ħ

Bay
Set sail to Imgiebah bay, where clear blue waters meet the sandy shore. A pristine wonder that has gained popularity among hikers exploring the adjacent regions of Selmun and Mistra.
6. Golden Bay and Riviera Bay
Famous for their raw natural beauty, russet sands and ethereal sunsets all year round. Golden and Riviera Bay also offers various amenities to enhance your chartering experience. There are beach bars and restaurants nearby where you can indulge in delicious Mediterranean cuisine or sip on refreshing cocktails. Additionally, water sports activities such as jet skiing, paddleboarding, and snorkeling are available for those seeking a bit of adventure.
7. Anchor Bay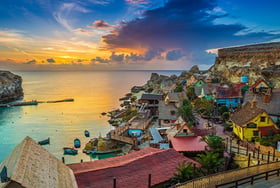 Situated in the northwest of Malta, Anchor Bay is famous for Popeye Village, a charming film set-turned-amusement park. The bay itself offers a beautiful setting for swimming and relaxation.
8.

Ċ

irkewwa Bay
Located on the northernmost tip of Malta, Cirkewwa is a gateway to the island of Gozo and is known for its excellent diving and snorkeling opportunities. The nearby wreck of the MV Rozi is a popular dive site.
9. Gozo
The sister island of Malta, Gozo, is known for its tranquil atmosphere. Embark on a captivating journey to Ramla Bay, where you can bask in its stunning beauty and soak up the sun on its golden shores. In addition, immerse yourself in the charming allure of Mgarr ix-Xini, while treating your taste buds to the exquisite culinary offerings at the delightful local restaurants dotting the enchanting Mgarr harbour.
10. Marsaxlokk
This traditional fishing village located on the southeastern coast of Malta is famous for its colourful fishing boats called "luzzus." It's a great place to experience the local culture, indulge in fresh seafood, and explore the nearby St. Peter's Pool.
11. Blue Grotto
Located in Zurrieq on the southern coast of Malta, the Blue Grotto is a series of caves and natural rock formations. The vibrant blue waters create a mesmerizing sight, especially when illuminated by the sunlight.
12. Dingli Cliffs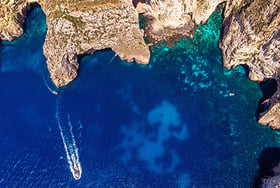 For breathtaking panoramic views, head to the Dingli Cliffs, which offer dramatic limestone cliffs that drop into the Mediterranean Sea. It's a perfect spot to enjoy sunset views from your yacht.

These are the top 12 destinations out of the many incredible spots for yacht chartering in Malta. Each destination has its own unique attractions and natural beauty, ensuring an unforgettable experience for any yacht enthusiast.
If you are looking to set sails in Malta, DZ Advisory can guide you in organising the best chartering experience. If you would like to receive more information, please provide us with your contact details and one of our team members shall be in contact with you promptly.